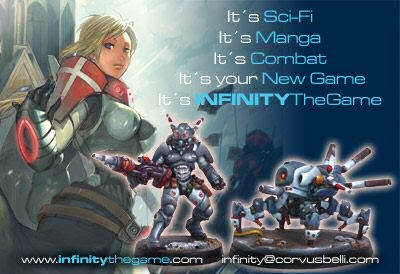 www.infinitythegame.com
Infinity is a science fiction skirmish-level tabletop miniature wargame produced by Corvus Belli. Set about 175 years into the future, players of the game enact a skirmish between opposing forces using 28 mm scale miniatures and utilizing a flexible order system, allowing involved gameplay for both players regardless of whose turn it is.
Factions Intro:
PanOceania
PanOceania is the Nº1. Great Power of the Human Sphere. It owns the greatest number of planets, has the richest economy and possesses the most advanced technology. Pragmatic and generous, PanOceania is a melting-pot of cultures, heir to the best democratic and welfare traditions of the West. Proud of itself and somewhat domineering it can claim to have the most technically sophisticated society and army in the Sphere and likes to brag about it.
Yu Jing
The other great power, the eternal rival always conspiring and intriguing to bring down its adversary is Yu Jing (read Yu Ching), the Asiatic giant. The entire Far East is united beneath the banner of what was once China but which has now formed a single, though varied, oriental culture. Product of great industrial and technological development and a forceful, thriving economy, Yu Jing is determined to achieve the dominant position which it aspires to.
Tersedia di:
http://amuro_ray82.tokobagus.com/

---
Permissions in this forum:
You
cannot
reply to topics in this forum